E-File Made Easy!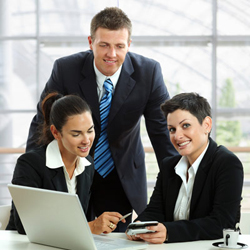 Electronic filing over paper returns. Yes, there are differences in the processing of paper returns verses electronically filed returns. The IRS would take time to process the paper returns, it is processed in the order they receive it, due to some operational challenges the IRS always points that there could be a delay in processing the paper returns and encourages to choose electronic filing over paper returns.
Electronically filed returns are processed automatically in minutes and an acknowledgement is made available instantly to let you know the status of it, accepted or rejected. You could re-submit an electronically reported return to amend the changes if you required to do so in simple steps. Electronic filing is possible from anywhere anytime, all you need is a computer with an internet connection. You can also use your mobile, tablet and smart phone to file it online now using TaxGarden.com.
You are not alone when you efile your tax returns at TaxGarden, you could talk to our experts for free through a live chat, or by calling our support desk or by writing to us; we are always happy to help you through your filing process.
E-file is the best way to go for Tax Extension Applications.
Although alternative resources are available to report a Tax Extension Application for your personal and business income tax returns, you want to consider filing it electronically. The electronic version of Tax Extension application will cut the processing time, save personal resources (for example, time and postage) and reduce preparation and processing errors. Your tax extension application status is available instantly once IR accepts it. You may also print the completed Tax Extension Application return for your internal records. E-filing is the fast, secure, easy and accurate way to file returns and pay any tax due.
Get Started - It's Free